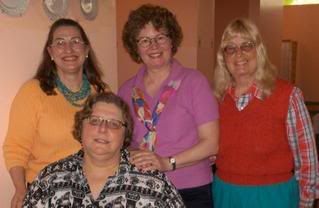 Wednesday evening I had a most enjoyable dinner with three friend from high school. Much catching up was done. There was a lot of time to cover. While the other three had been getting together in past years, but I hadn't seen Barbara since graduation, Ellen at the 25th reunion and Michael a few years ago.

Barbara lives in Oregon and has been happily and busily retired for several years, Michael is writing and editing in New York, Ellen continues to court report and I'm still computing but looking forward to retiring soon. A good time was had by all.

Next year in New York!