I was shocked to see that it was 46 days since my last post.

I have not been knitting as much as I have been making jewelry. Earrings and necklaces galore. Oh look, here is a necklace now -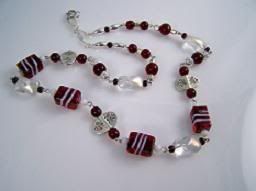 I donated a necklace and earrings to The Harbour. A friend is on their board. The word I got back was that there was active bidding and they were sold for more than their set value. That made me feel good.


There is a good amount of knitted goodies to send off to Dulaan. The deadline to be included in this year's shipment is rapidly approaching so I'll try to get them packed up and out this weekend.

I recently made another scarf out of the recycled sari silk yarn. Amazing stuff. Much like Chicago weather, if you don't like the color you are knitting, wait a few stitches and it will change!

Ugh, Chicago weather. A very undecided proposition. Warm weather, bulbs popped, snow fell, heat happened, cold, then rain and to keep you on your toes, tornadoes in the southwest suburbs.

Thought of retirement are percolating through my head. Some downsizing, some disencumbering ourselves of years of possessions. It is a big job, but it must be tackled eventually. How do you decide?