I found the coolest soon-to-be site yesterday while reading Franklin's blog. It is called Ravelry and it is (will be) the internet equivalent of being in a knitting shop, in a library, in a chat room, where you can track your stash and get patterns, ideas and/or help or encouragement. They are still in beta testing but are accepting wanna joins. As of today, I am number 22,093 with 14,299 knitters in front of me and 239 behind me. No cutting please, one third of those wanting to join have been issued invitations. Hey, one in 22,332 is better than one in a million!


Last Friday my brother came to Chicago. Fred, Gene and I took the Chicago Architecture Foundation's
Architecture River Cruise. A wonderful hour and a half on the Chicago river, viewing the beautiful buildings, learning their history and the history of Chicago. I recommend it to everyone. After the cruise, we strolled down to Millennium Park and took in the Bean and the spewing fountains. Photos to follow. We feasted on Chicago-style hot dogs and enjoyed a lovely day in the park.
Another snap of under the Bean.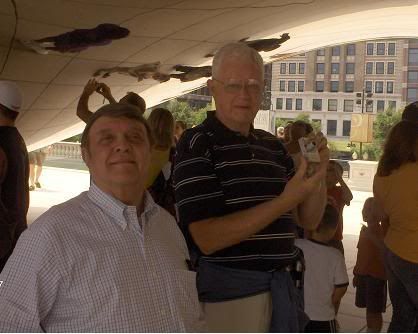 Gene & Fred Under the Bean

We retreived the car, picked up Abe and drove to Naperville for the Cavalcade of Brass, a Drum Corps contest sponsored by The Rosemont Cavaliers. In fact, that is why Fred was in town. It was the 50th reunion of the 1957 Chicago Cavaliers. A good time was had by all.

As an added benefit, I delivered eight pair of earrings to the fellow in charge of the Cavaliers souvenir booth. They sold two pair that evening. A good thing for all involved.